Pete Kavanagh - Singer-songwriter, Musician, Storyteller
 
Pete Kavanagh is a singer-songwriter, musician and storyteller from Naas, Co. Kildare. His unique style is best described as Americana infused folk, with a sound that invokes the vintage quality of his many musical influences including Bob Dylan, Leonard Cohen, Christy Moore, Luka Bloom, Mick Flannery, Richard Thompson, Neil Young, Van Morrison and Tom Waits.

Pete's ability to capture the human experience in all its joy and sorrow has earned him the respect of his peers and fans alike. His songs are filled with emotion and they speak to the listener on a personal level. Whether he's writing about love, loss, or hope, Pete always finds a way to connect with his audience and his music has the power to reach out. 
Pete released his critically acclaimed debut solo album, Join up the Dots, in November 2021. The first single from the album, To Hold the Red Rose, reached the semi-finals of the prestigious International Songwriting Competition, selected from over 26,000 entrants. One of the judges was Tom Waits, one of Pete's musical heroes and he was over the moon with that. The album, Join Up the Dots has received glowing reviews and plenty of airplay since its release. It was voted Best Irish Album 2022 by Lonesome Highway

Pete has shared the stage with and supported top artists such as Jerry Fish, Paddy Casey, Eleanor Shanley, Freddie White, Martin Stephenson, Luka Bloom and Mary Black. He always knows how to put on a good show, whether he's playing solo or with his band. He has a natural charisma that captivates audiences and gets them engaged with his performance. His energy is infectious, and his passion for music is evident in every note he plays.
Pete is currently recording some new songs and these will be made available in regular  single releases. starting in October with "Darkness Before the Dawn" . Pete is also set to play a number of low key, intimate setting gigs over the coming months.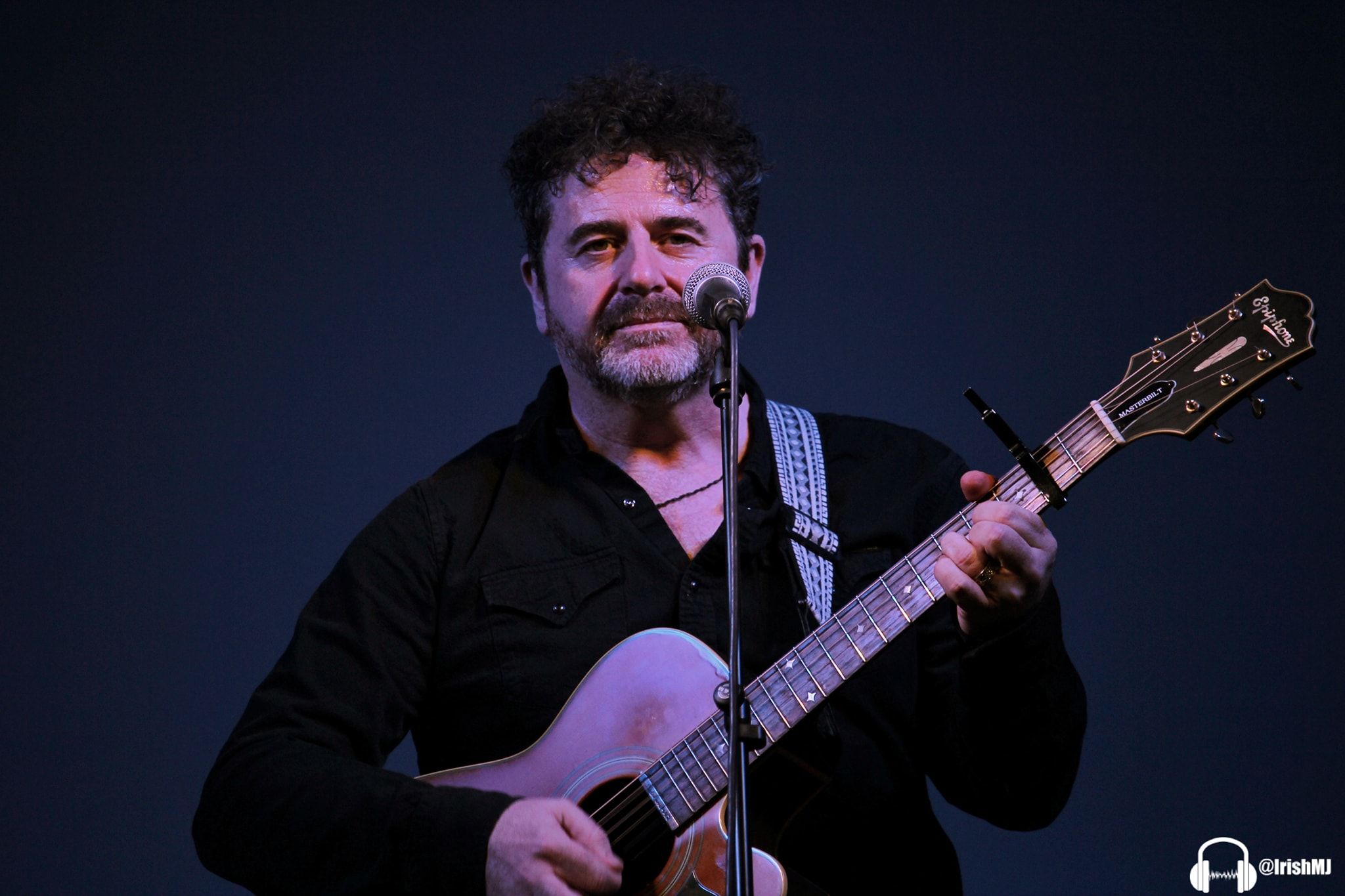 Biography - Pete Kavanagh
Where it all started 
Pete was drawn to music from a young age, learning the basics in his local brass band. This is not a line you hear much in Irish musical biography, but in Co Kildare, where Pete grew up, there was a tradition of brass and reed bands, perhaps a legacy of the County's military history. 
Pete's instrument was the trombone. "I never got very skillful on the trombone", admits Pete, "but I did learn about tone, arrangements and key structure."  In his early teens, Pete found a beat-up acoustic guitar in his grandparents' bin and something clicked. He became absorbed in the creative energy of music, honing his craft in earnest and learning to play and sing songs from the likes of Elvis, The Beatles, Bob Dylan, David Bowie, Johnny Cash, Christy Moore and The Dubliners. In his early twenties, Pete began to write songs. He formed a band called The Scene, which was popular on the live circuit in Kildare. The Scene recorded four original tracks before disbanding in the mid-90s. 
Love 
In 1996, Pete met vocalist Pamela Halpin in Top Twenty Newbridge, Co. Kildare, the local record store he worked in. Their shared passion for music sparked a connection which quickly evolved from swapping mix tapes to performing live together at local songwriter sessions in Kildare.  The duo headed off to Galway in 1997. Whilst there, they collaborated under the moniker 'Tongue'. Tongue was featured on two compilation albums released by Galway label Origin Records, produced by Jon Richards of Galway Bay FM, which featured artists including Ultan Conlon, Kirsten Hersh, Dean Friedman and The Devlins. Tongue performed numerous live shows in Galway and Kildare before moving to Edinburgh, supporting acts such as Juliet Turner, Scullion, Martin Stephenson and Luka Bloom. 
Home 
Pamela and Pete moved back to Ireland in the 2015. Since then, Pete has been performing at venues in Leinster. In 2018, an unusual opportunity presented itself, an opportunity which. given his love of story and character, was right up his street.
He was asked to work on a soundscape, including the composition of original music, to accompany a play written by Pete's cousin, Tom Noone, about the great grandfather to both Tom and Pete. The play, Who Will Separate Us, told the story of Eddie Noone, a skilled hunter and trapper from Naas who, like thousands of other poor Irishmen, fought in the Boer War and the Great War. Pete composed and arranged the music and played live at each performance, including the Edinburgh Festival Fringe of that year. 
"

Writing a score for a theatrical piece and working closely with actors was an incredible experience for me as a musician. It focused my creative energy in a very visual way in relation to the music, and this carried through into the writing process for Join Up The Dots. For example, one of the songs on the album, Sweet Friend, is inspired by Annie Noone, my great grandmother, who was portrayed so vividly by Mary Power Cooney in the play. "
— Pete Kavanagh, on scoring Who Will Separate Us  
Debut 
In the Spring of 2019, Pete began recording his debut album, Join up the Dots, at Arthouse Studios in Naas. 
Things didn't quite go to plan, however. 
In May of that year, Pete's father, Barney, sadly died. 
"I just withdrew from the world and retreated into a cocoon of sorts," remembers Pete. "I abandoned the remaining tracks I was planning to record – they just became less relevant. I began to write songs to channel my grief. I found refuge in music, which has always been a means of expression and healing throughout my life." 
As is the case for many artists in the year 2020, the coronavirus became a character in Pete's creative life. Just as Pete had finished recording tracks for the album, the virus hit Ireland and the album was put on ice again until June.
After a long gestation, Join up the Dots, which has been recorded, co-produced, mixed and mastered by Hally at Arthouse Studios, Naas, was released in November 2021.
Pete is joined by a host of musicians on this album, namely Frankie Lane, Lenny Cahill, Mark Dudley, Patrick Hopkins, Noelie White, William McCormack, Jennifer McMahon, Barry Mulrennan, Joe Heffernan, Hally, Graham Hopkins and Pam Kavanagh.
The songs delve into dark themes such as PTSD, mental illness, war, grief, addiction, unrequited desires as well as positive themes of love, peace and hope shining through. The music has flashes of alternative country, folk, jazz, and rhythm and blues, yet stays faithful to Pete's signature singer-songwriter/acoustic-guitar feel.
Having said that, there is a rich array of instrumentation on the album with songs soaked in the sweet sounds of mandolin, banjo, dobro, Hammond organ, electric guitar, bass, acoustic guitar, piano, percussion with a sprinkling of synths. If Pete's strong voice carries the narrative in these songs, the female backing vocals add tonal tangents to the stories told.
The first single released from the album was To Hold the Red Rose, an emotive song of love, hope, family and unity. The album was voted Best Irish Album 2022 by Lonesome Highway 
Pete is currently recording some new songs, the first of which will be released in Oct 2023. It is called ' Darkness Before the Dawn'