Pete Kavanagh Releases Debut Album, "Join up the Dots"
0:00/4:34

0:00/4:50

0:00/6:09

0:00/3:03

0:00/3:49

0:00/4:43

0:00/3:53

0:00/4:30

0:00/4:56
Genre: Americana, Folk, Alt-Country, Singer-Songwriter
Similar Artists: Tom Petty, Bob Dylan, Tom Waits, Leonard Cohen, Johnny Cash, Neil Young
Mood: Late night feel, Emotive, Personal, Intuitive
"The atmosphere of the music created by this artist is very fascinating, the thing that makes it unique and magical is Pete's voice. An artist of sure talent who has a uniquely original style. In some moments the chord progression and harmonic intuitions reminded me of Radiohead."
"Kavanagh's delivery carries the Cohen-esque vibe, fragile, heavy with emotion and cinematic in the way it draws you in."
"Great songwriting, great singing, great arrangements, playing and production. Pete writes from the heart and many of the thought-provoking lyrics touch on pretty serious topics. But there's also room for lighter stuff including taking the mickey out of corporate speak and my favourite, the lovely To Hold The Red Rose. "
About
Pete Kavanagh is an Irish musician and songwriter who hails from Co. Kildare. His sound evokes the vintage quality of influences such as Bob Dylan, Tom Waits, Leonard Cohen, David Bowie and The Beatles, but with a contemporary style that is unique to him. 
With evocative lyrics and a rich tapestry of sound, Join Up the Dots, is a love letter to authenticity and to the human Spirit. The nine tracks on the album combine alt-country, folk and rock with an overriding Americana feel. Pete's strong vocal carries the narrative throughout the songs, with a rich array of instruments opening the soundscape and ethereal female backing vocals and lush harmonies adding tonal tangents to the stories being told. 
Pete is joined by a host of musicians on this album including Graham Hopkins, Frankie Lane, Lenny Cahill and Hally. The album opens with Pete's debut single, To Hold the Red Rose, which was well received, reaching No. 4 in the Irish Singer-Songwriter charts, being featured on the RTE Radio 1 Recommends Playlist and reaching the semi-finals of The International Songwriting Competition (Americana category) announced in February 2021. 
Pete released a further two singles from the album, Hold On and Mercy, both of which showcase the rockier side of Join up the Dots. These singles have also been well received with National and International radio play. 
The next single scheduled for release is Sweet Friend. 
"Sweet Friend might just very well end up becoming Pete's own "Knockin' On Heaven's Door" type-tune – it's got that similarly haunting, down-to-earth vibe and grounded perspective that sincerely connects and comforts in the oddest of ways.  A tributary tune that has all the stunning craft you'd find on the records Tom Petty was writing towards the end of his career on Wildflowers and The Last DJ and with the spirit & atmosphere of a Bob Dylan classic."  
Sleeping Bag Studios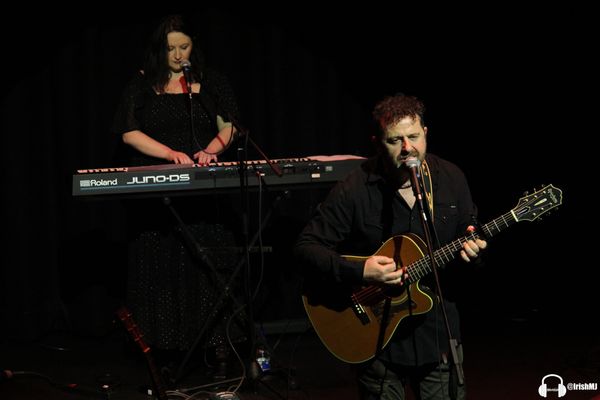 Recording the Album
Pete began recording "Join up the Dots" at Arthouse Studios in Naas in the Spring of 2019.  Things didn't quite go to plan, however. In May of that year, Pete's father, Barney, died. 
 "I just withdrew from the world and retreated into a cocoon of sorts," remembers Pete. "I abandoned the remaining tracks I was planning to record – they just became less relevant. I began to write songs to channel my grief. I found refuge in music, which has always been a means of expression and healing throughout my life." 
Pete finished recording the tracks for the album in Spring 2020, just as the coronavirus hit Ireland. The album was put on ice again until the Autumn of that year.  After a long gestation, Join up the Dots, which has been recorded, produced, mixed and mastered by Hally at Arthouse Studios, Naas, was released in November 2021.
 Join up the Dots Artwork
 The album cover features one solution to the 9 Dot Puzzle, a well-known puzzle used by many psychologists to explain the mechanism of 'unblocking' the mind in problem solving activities. It is probable that this brainteaser gave origin to the expression 'thinking outside the box". Each dot represents a track on the album.
Tracklisting: 
Can You See Me 
Getting Things Done 
Say You Will 
Sweet Friend 
Ashes 
Tonic for a Troop
 
Credits
All songs written, arranged & performed by Pete Kavanagh  
Recorded, Mixed & Mastered at Arthouse Studio by Hally  
Produced by Hally. Co-produced by Pete Kavanagh 
MUSICIANS
Pete Kavanagh - Acoustic Guitar, Vocals (all tracks), Backing Vocals (2, 3, 5, 7, 9), Bass (1,5), Piano (7), Synth (4,7) 

Lenny Cahill - Piano (1,5), Bass (2), Drums (2), Backing Vocals (2), Mandola (1), Hammond Organ (1, 5, 6, 8) 
Pam Kavanagh - Backing Vocals (1, 4, 7) 
Joe Heffernan - Lead Guitar (2) 
William McCormack - Bass (3) 
Graham Hopkins - Drums (3) 
Patrick Hopkins - Percussion (4, 7, 9) 
Mark Dudley - Lead Guitar (6, 8) 
Noelie White - Percussion (6, 8) 
Barry Mulrennan - Bass (6, 8, 9) 
Jennifer McMahon - Backing vocals (7) 
Frankie Lane - Dobro & Banjo (9) 
Hally - Lead Guitar (3), Backing Vocals (2,3) & magical touches throughout 
Recent Releases
Release Date: 16th October 2021 
Genre:  Alternative Rock, Americana, Singer-Songwriter  
Sounds Like/Influences:  Tom Petty, The Band, George Harrison
Words & Music:  Pete Kavanagh
Musicians:  Pete Kavanagh, Hally, Graham Hopkins, William McCormack
Mood:  Dark, Tense, Reflective
Theme:  Confrontation, Institutional & State Abuse, Closure
"The Americana-infused track tackles one of the countries most stigmatised issues, supporting victims of clerical and state abuse"
Mercy is a testament from an Irish working man in support of the victims and survivors of clerical and state abuse in Ireland, and indeed worldwide.
"We didn't want to face up to it… You cannot say people didn't understand what was going on. There was a colluding silence. And that colluding silence supported a state that didn't want to intervene and assisted this institutional regime." 
   - President Michael D Higgins

Quote taken from the Book "The Best Catholics in the World" by Derek Scally. Published 2021.
Hold On Official Music Video
Pete Kavanagh dives deep into the emotional trauma being experienced all over the world, encouraging us all to "Hold On"
Release Date: 23rd October 2020
Genre:  Folk Rock, Americana, Singer-Songwriter 
Words & Music: Pete Kavanagh
Musicians: Pete Kavanagh, Hally, Lenny Cahill
Sounds Like/Influences:  Tom Petty, The Band, George Harrison, David Bowie 
Mood:  Emotive, haunting, melodically enchanting 
Theme:  Mental Health, PTSD, Anxiety, Isolation
Straight to RTE Radio 1's Recommends List in 2020 
Ready to provide comfort & catharsis by confronting anxiety & authority with the creative freedom, courage, and artistic integrity required to make a resounding impact on the hearts & minds of those who listen – Pete Kavanagh dives deep into the emotional trauma being experienced all over the world, encouraging us all to "Hold On". 
With our shared humanity threatened by the peril of demoralised times spent trapped in lockdown, mental health issues undeniably on the rise, and no answers to the many questions we all have on the horizon – "Hold On" boldly dares to address what we're all collectively feeling, and offers authentic solace to the soul through a mesmerising Blues/Rock vibe that echoes the emotional tone of his words.
"To Hold the Red Rose" – Inspired by loss, this is a song of love and survival
Release date:  10th September 2020

Genre:  Americana, Contemporary Indie Folk 
Words & Music: Pete Kavanagh
Musicians: Pete Kavanagh, Hally, Lenny Cahill, Pam Kavanagh
Sounds like:  Johnny Cash, Nick Cave, Bob Dylan, Tom Waits, Leonard Cohen, Bill Callahan, Tindersticks, The Handsome Family 
Mood:  Late night feel, emotive, raw, acoustic, haunting 
Theme:  Love, grief, hope
To Hold the Red Rose is a song inspired by loss and survival. It is a positive slice of Folk/Americana and the lead single from his forthcoming album, Join up the Dots, set for release in November 2021. 
It has something of the rough and rowdy Dylan and a little of early Tom Waits, but as influences only, this is no imitation, this is something new. 
* Straight to RTE Radio 1's Recommends List in 2020 *  

- Reached #4 in the Irish Singer-Songwriter Singles Charts 
- Semi-Finalist in the International Songwriting Competition 2020 
What People are Saying
"Musicians find immovable objects inside people's pain and this is an important work. Bravo!!"
"Country/Folk Singer, Pete Kavanagh shares a deeply personal song on the Americana infused track "Mercy", tackling one of the country's most stigmatized issues (Clerical & State abuse)."
"A classic bit of dry western twang, Pete Kavanagh deeply explores a sense of space on the powerful and spacious "Mercy". With nods towards greats like Johnny Cash, the whole of the sound features a tremendous strength to it. His voice rests front and center of the entire thing for he makes sure to hold absolutely nothing back. Indeed, there is a force of nature quality to it. Lyrics are chosen with caregiving the song an almost literary bent. Rhythms keep it slow and steady for the way it unfurls gives it a majesty. This feature, alongside the long duration of the track itself, makes it feel akin to a whole other universe, one that Pete explores with such vigor." - Colm Slattery
"I have to say that this album is class and a work of art. There ain't a bad song on it. It's the type of album that when it finishes, you find yourself saying 'I'll play that again."
— Downtown Detroit
"Definite Nick Cave/Johnny Cash vibes…..like if they had a son, his name would be Pete Kavanagh. The video is beautiful and the chorus is mighty catchy."
"Pete Kavanagh's debut single is a haunting and atmospheric love song that beautifully conjures up the spirit of Leonard Cohen. With it's simple and unaffected use of acoustic guitar and piano, it grabs you from the very first bars and thereafter never relinquishes its grip. You'll be singing along even as the goosebumps rise on the back of your neck."
"To Hold the Red Rose has something of the rough and rowdy Dylan and a little of early Tom Waits, but as influences only as this is no imitation, this is something new. Mixing traditional folk forms with the sweetness of a classic chorus and mercurial organ, Pete's vocal has a passion that gives the song a timeless air, managing the great pop trick of letting the hint of euphoria shine through the stately melancholy and melody."
"When Pete Kavanagh sings he bares his soul."